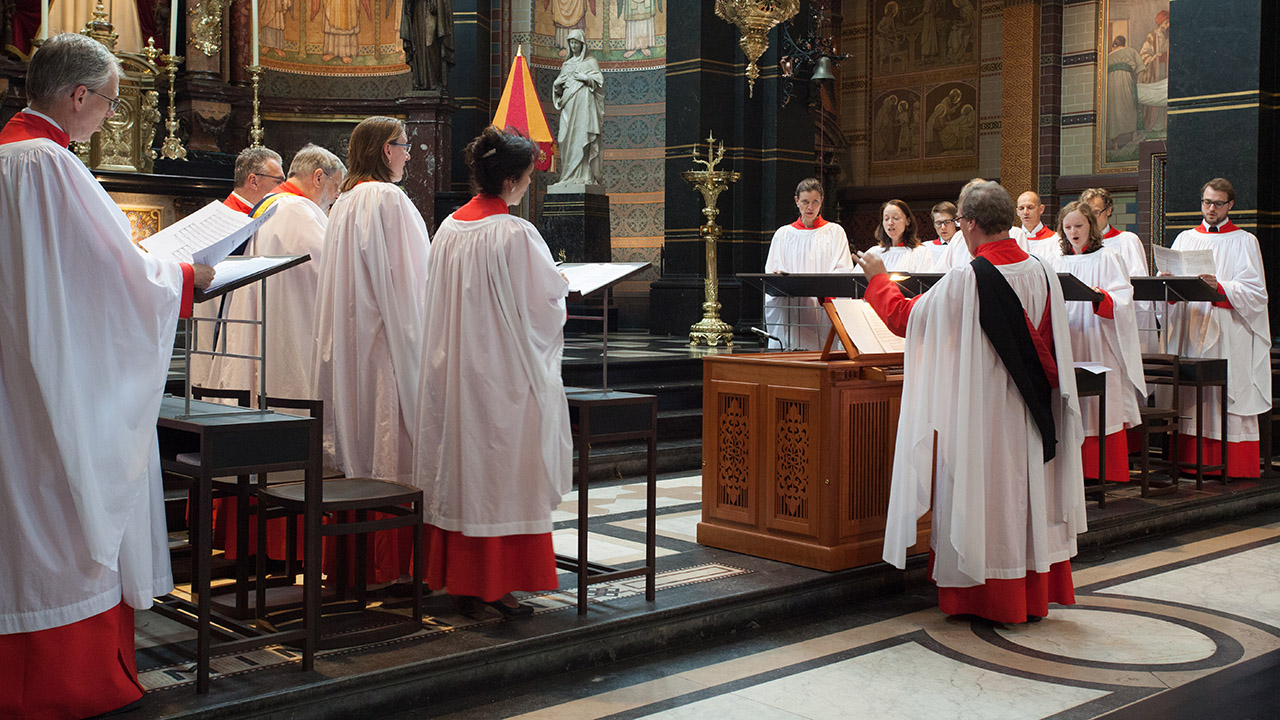 There are 3 choirs and ensembles in the St. Nicholas Basilica. Given the background of conductor Michael Hedley, it is no wonder that the musical apparatus in the Basilica is strongly oriented towards the English Cathedral and College traditions, so admired on the Continent. After his death at the end of 2020, the also English Giles Brightwell took over.
The Cappella Nicolaic consists of about 20 very experienced singers. The Cappella sings the Choral Evensong every other week and the Sunday morning celebration once a month. The repertoire is very extensive, from Renaissance polyphony to Romantic music and contemporary compositions. During the Evensong, of course, mainly music from the English cathedral tradition will be heard.
The Basilica Consort consists of about 8 professional singers with extensive solo and ensemble experience. Their composition can vary well, as many professionals enjoy singing in the Nicholas. A lot of old music from the Renaissance is sung – both well-known pieces and works newly published especially for us. The Basilica Consort sings the Sunday morning celebration and the occasional Evensong three Sundays a month.
De Nicholas Chorale consists of about 24 experienced amateur singers and sings Choral Evensong twice a month. Their repertoire consists mainly of English liturgical music from Renaissance to the present day – Morley, Gibbons, Purcell, Wesley, Stanford, Wood and Howells were recently on the lectern.
Our singers come from far and wide to deliver musical quality at a high level together in the Basilica.
Interested? Music in the Nicolaas is always open to new members: experience in choirs is a plus and excellent vista singing is an absolute must. For more information, please contact info@muziekindenicolaas.nl
H. Nicholas Basilica
Prince Hendrikkade 73
1012 AD Amsterdam