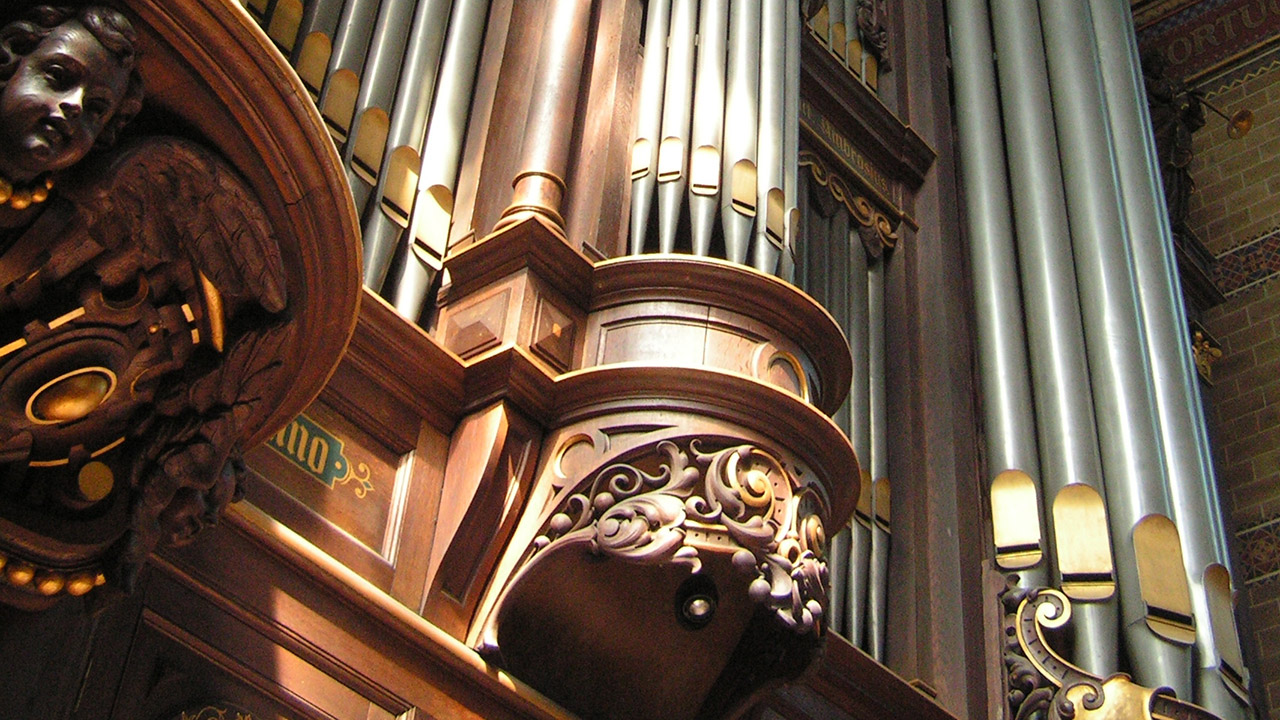 Instrument
A mighty instrument hangs against the west wall of St Nicholas' Basilica: the three-manual organ by the famous German builder Wilhelm Sauer. This beautiful-sounding national monument with its warm tones is still frequently played during masses, in Choral Evensongs and during concerts - in particular the annually returning Amsterdam Organ Summer. The sound character of the Sauer organ is ideal for romantic and early modern repertoire. For example from Max Reger and Joseph Rheinberger.
History
Opus 505
The organ in St Nicholas' Basilica is opus 505 by Wilhelm Sauer in Frankfurt a/d Oder, one of the most important 19th-century German organ builders. The 30,000 guilder instrument was a gift from the parishioners and was inaugurated on 12 June 1889 with a solemn praise and a performance by Jos A. Verheijen, a renowned Amsterdam organist at the time.
Edward of Beinum
The most famous organist of the Nicolaas was Eduard van Beinum, he was chief conductor of the Concertgebouw Orchestra from 1945-1959. He learned the trade with the choir and organ of the Nicolaas Basilica, where he started in 1921 as an organist/conductor. On his very first appearance as an organist, he sowed confusion among churchgoers with a wrong bet in the Credo. He had great difficulty getting the whole-heartedly singing parish back into line. Later he dared to perform Palestrina's six-part Missa Papae Marcelli with the choir, as well as the Mass he had written during his conservatory days.
Fashionable
In 1960 the organ was stripped of a few registers and fitted with higher filling voices, according to the then current insights. The aim was to make the instrument more suitable for playing Baroque music. That movement was just rediscovered at the time and quickly became popular. Later, these interventions were regretted: today organs are regarded as the product of a certain style that must be respected. As a result, the emphasis in restoration is now often on 'preservation'. Fortunately, the changes to the Sauer organ have been limited. Windchests, mechanism, bellows and most of the pipework are still original, so that the original late romantic character has been well preserved.
Latest Restoration
At the end of the 1990s, the organ was completely restored by the Verschueren company. The interior was removed and disassembled. All bellows were reupholstered with leather, the windchests were disassembled and cleaned, cracks were closed. The St. Nicholas Basilica was lucky enough to be able to purchase a number of stops from a dismantled Sauer organ in Middelburg. This made it possible to provide a number of registers with original Sauer pipes. Subsequently, a number of other missing and removed pipes were recovered from the firm that carried out the refurbishment in 1960. At the beginning of 2001, the construction of the instrument in St. Nicholas Basilica was started, and on Ascension Day the Sauer organ sounded festive again in the Nicholas liturgy.
Registers
Registers of the Sauer organ 1889, opus 505
I. Manual, Cf
Principal 16
Principal 8
Flute Harmonique 8
Viola di Gamba 8
Thought 8
Octav 4
Rohrflute 4
Octav 2
Mixtur 5f.
Cornett 3-5f.
Trumpet 8
II. Manual (im Schweller)
Border 16
Principal 8
Traversflute 8
Salicional 8
Rohrflute 8
Octav 4
Flauto Dolce 4
Mixtur 2-4f.
clarinett 8
III. Manual (im Schweller)
Quintaton 16
Geigenprincipal 8
Concert Flute 8
Lieblich thought 8
Aeolin 8
Voix celeste 8
Fugara 4
Traversflute 4
Flautino 2
Trumpet 8
Pedal, CD
double bass 16
Principal 16
Sub bass 16
Quint Bass 12
Offenbass 8
Violoncello 8
Bass flute 8
Octav 4
Posaune 16
Trumpet 8
Couples:
I-II II-III I-III
PI P-II
Tremulant:
I, III
Combinations:
Piano, Mezzoforte, Forte, Tutti
Sauer's Patent Combinations pedal
barker machines:
I, II & Pedal
Henk Klop's chest organ on the choir, 2012
Thought 8
Principal 8
Octave 4
Whistle 4
Octave 2
only wooden pipes
H. Nicholas Basilica
Prince Hendrikkade 73
1012 AD Amsterdam