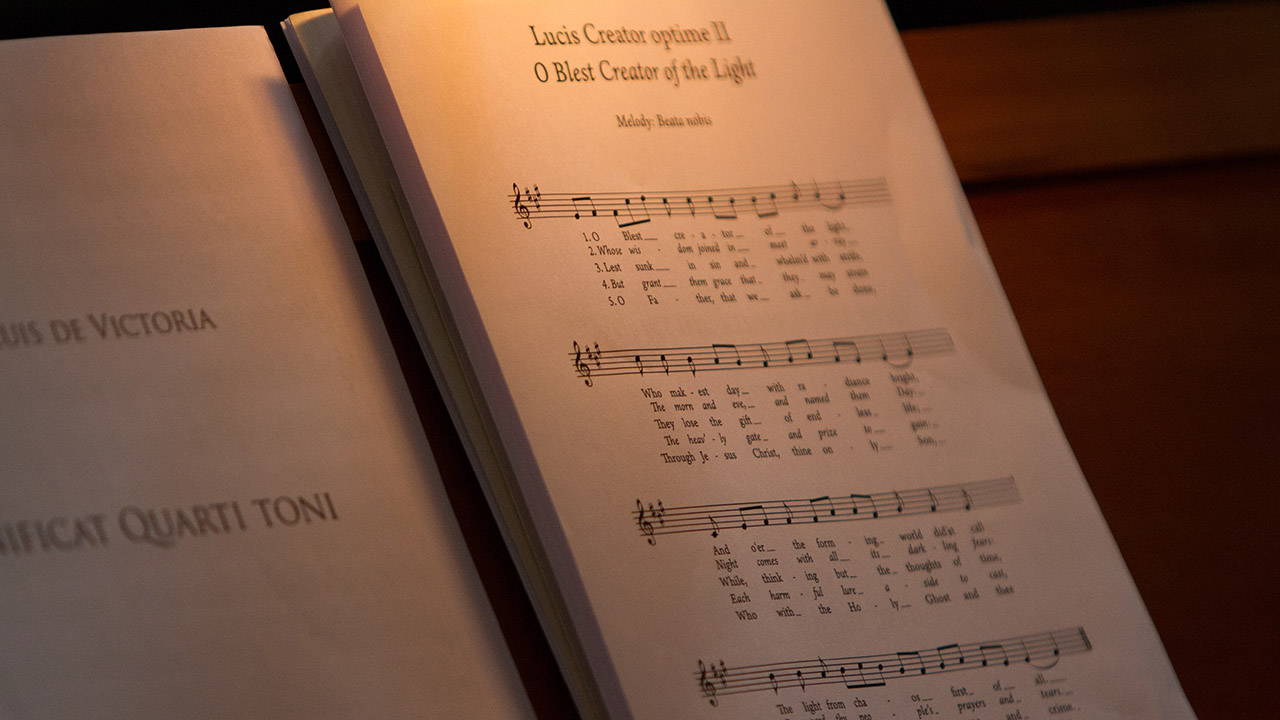 Evensong is a service of reflection where the beauty of the music and language can speak to us in a rich and diverse manner such that we may be permitted to forget the activities of daily life, and be still.
Evensong continues a centuries-old conversation with God that has its roots in the earliest Judæo-Christian expression. The liturgy was developed by Thomas Cranmer (1489-1556), archbishop of Canterbury, during the reigns of the English monarchs, Henry VIII, Edward VI, and Elizabeth I. First used from 1549, Evensong is one of the earliest rites in the vernacular of the reformed Church of England. An amalgamation of the ancient monastic offices of Vespers and Compline, which were sung in Latin, it is a service of The Word. Since the establishment of the Personal Ordinariate of the Chair of St Peter by His Holiness Pope Benedict XVI, Evensong has become an official liturgy of the Roman Catholic Church.
The service is very little altered from its original sixteenth-century form but its content has a more ancient history. The Psalms were the songbook of the Jewish temple and, as such, were well-known and sung by the Apostles. The Canticles are taken from the New Testament while the set Prayers and Responses represent the refined expression of our petitions and thanksgivings to God.
The service is in three parts. The liturgy begins with a short introduction, echoing the monastic offices. The second part is the narrative of God's redeeming work, beginning in the Old Testament. The recitation of the Psalter, which is at the heart of the monastic Offices, is reflected in the composition of Evensong. Cranmer's liturgy developed those offered by the monks and included space for two biblical readings or lessons, the first from the Old Testament and the second from the New Testament. The Magnificat, or Song of Mary, is the canticle for Vespers, the monastic office sung at sunset, and the Nunc Dimittis, or Song of Simeon, and The Apostles' Creed both come from Compline, the monastic Office that completes the day. The third part includes the Lord's Prayer, as well as the Lesser Litany and Responses, both of which were taken straight from the monastic offices. The Collect for Peace was the prayer at Vespers while the Collect for Aid against all Perils was the prayer at Compline.
The service follows Cranmer's original intentions where much of the service is sung by the clergy and choir on behalf of the congregation in the style of the English cathedral and collegiate foundations. The congregation is encouraged to participate through meditation, singing the hymns, saying the prayers, and offering private prayers to God.
H. Nicholas Basilica
Prince Hendrikkade 73
1012 AD Amsterdam