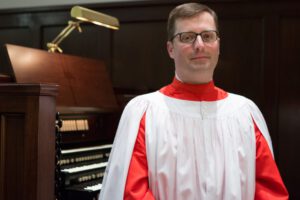 ​Dr. Giles Brightwell, geboren in Londen in 1970, ging naar de Harrow School en volgde een opleiding aan de Universiteit van Durham. Terwijl hij in Durham was, had hij vier beurzen, waaronder zowel koorgeleerde als orgelgeleerde in de kathedraal van Durham onder Dr. James Lancelot. Hij leidde het University Chamber Choir en richtte samen met professor Jeremy Dibble het Durham University Consort of Voices op. Hij was organist van de Universitaire Koorvereniging. Na zijn afstuderen werd hij benoemd tot Universitair Organist en Tutor in Muziek in Durham. Na twee jaar als College Organist aan het Sidney Sussex College van de Universiteit van Cambridge te hebben gewerkt, stapte hij over om University Organist en Directeur van het Chapel Choir aan de Universiteit van Glasgow te worden. Terwijl hij in Glasgow was, leidde hij een campagne om € 500.000 op te halen voor de herbouw van het Henry Willis III-kapelorgel van de universiteit, dat regelmatig door Marcel Dupré was bespeeld. In 2001 was hij verantwoordelijk voor de muziek bij de verschillende ceremoniële gelegenheden om het 550-jarig jubileum van de universiteit te vieren, waaronder het geven van de première van Sally Beamish's Caprington Doubles, een fanfare in opdracht voor de eredoctoraatsceremonie van ZKH de Prins van Wales aan de universiteit. Onder leiding van Dr. Brightwell hervatte het Glasgow University Chapel Choir de uitzendingen op BBC-radio en televisie en een jaarlijkse buitenlandse tournee. In 2002 werd het koor uitgenodigd om te zingen in de kathedraal van Glasgow in aanwezigheid van HM The Queen tijdens een dienst om het gouden jubileum van Hare Majesteit te vieren. Na functies in St Paul's K Street, Washington DC en Immanuel on the Green in het historische New Castle, Delaware, keerde hij in 2009 om familiale redenen terug naar het Verenigd Koninkrijk en nam de functie van organist en adjunct-directeur muziek op bij het twaalfde-eeuwse Civic en Parish Church of St Mary le Tower, Ipswich, die hij combineerde met lesgeven in zang, orgel en theorie aan de Ipswich School. Tussen 2010 en 2013 was hij lid van de Council of the Guild of Church Musicians en tussen 2013 en 2016 was hij lid van de Editorial Board van de Association of Anglican Musicians.
In 2013, he returned to the USA to take up the post of Director of Music and Organist at St Thomas' Episcopal Church and School, Houston, TX, where he directed the parish choir, established the choral scholar program and instigated the Moseley Memorial Music Series, a self-financing program that celebrated over 50 concerts in four years. He was principal organist, playing the Schoenstein & Co. organ for the daily school services and at the Sunday liturgies. In 2015 St Thomas' Episcopal Church and School and Houston Brass Band jointly commissioned a thirty-minute Christmas cantata from the British composer, Philip Wilby. The premiere, attended by the composer, was performed by 151 musicians from both church and school. During his time in Houston, Dr Brightwell was a member of the Music Commission of the Episcopal Diocese of Texas, acting as guest clinician and organist for Diocesan choral festivals; he also worked as a clinician, organist and housemaster for the annual Royal School of Church Music Gulf Coast Course in Houston. In addition to his work for the Episcopal Church, he was assisting organist at the Co-Cathedral of the Sacred Heart in Houston. In 2016, the choir of St Thomas' Episcopal Church was one of two choirs to be invited to sing at the opening convocation service for the National Convention of the American Guild of Organists held in Houston and attended by 1,800 colleagues from across the USA and beyond.
Following his time in Houston, Dr Brightwell was head-hunted to take up the role of Associate Music Director and Organist at All Saints' Episcopal Church, a 3,000-member parish in the heart of downtown Atlanta, GA. In addition to the busy round of services and concerts, Dr Brightwell had the honour of playing for the service to commemorate the 400th anniversary of the beginning of the enslavement of African heritage peoples, as well as Diocesan choral services and recitals at St Philip's Cathedral.
In January, 2021, Dr Brightwell was appointed Organist and Director of Music at the Basiliek Van de Heilige Nicolaas following the untimely death of Michael Hedley. He directs the Basilica's four choirs for the weekly round of Choral Evensongs and Masses, and, with Assistant Organist, Jos Maters, plays the historic Sauer organ.
In addition to his work as organist, choral conductor, singer (tenor), and teacher, Dr Brightwell's academic interests include British music of the late-nineteenth and early-twentieth centuries, English cathedral and church music, and institutional history. He has published articles and reviews with Ashgate Press, in the SCM Canterbury Press Dictionary of Hymnology, The Book Collector, in Notes the Journal of the Music Libraries Association of America, the Grolier Encyclopedia of the Victorian Era, and the British Music Society Journal. Having completed an MA in 1998, he completed a PhD in 2006, supervised by Professor Jeremy Dibble on the history of London's Royal College of Music. He has published compositions with Encore Publications.
St. Nicholas Basilica
Prince Hendrikkade 73
1012 AD Amsterdam