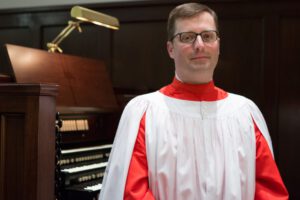 ​Dr. Born in London in 1970, Giles Brightwell was educated at Durham University. While studying at Durham, he was awarded four scholarships including as choral scholar and if organ scholar, under the guidance of Dr. James Lancelot. He sang, accompanied and conducted the cathedral choir at the eight weekly services. He was organist of the university choir and conducted the university chamber choir. After graduating, he was appointed Tutor in Music at the University and appointed University Organist, a role which he then combined with his position as Organist at Sidney Sussex College, Cambridge University. In 2000 he was appointed University Organist and Principal Choir of the University of Glasgow Chapel.
After a period in the United States, with positions in Washington DC (St Paul's Episcopal Church, K St), Texas (St Thomas' Episcopal Church and School and the Co-Cathedral of the Sacred Heart) and Georgia (All Saints' Episcopal Church , Atlanta), he returned to Europe at the end of 2020.
After the untimely death of Michael Hedley, he was appointed music director and organist at the Basilica of Saint Nicholas. He conducts the three choirs of the Basilica at the evensongs, masses and television broadcasts, and has the pleasure of playing the historic Sauer organ alongside assistant organist Jos Maters.
In addition to his work as an organist, choral conductor, singer (tenor) and teacher, his academic interests include late nineteenth and early twentieth century British music, English cathedral music and institutional history. He has published articles and reviews in leading academic journals on both sides of the Atlantic. After completing a master's degree in historical musicology, he obtained a PhD in history from London's Royal College of Music in 2006 under the supervision of Professor Jeremy Dibble. He holds an organ playing license from Trinity College, London. His compositions are published by Encore Publications.
H. Nicholas Basilica
Prince Hendrikkade 73
1012 AD Amsterdam